Borodo
Kanji

ボロード

Rōmaji

Borōdo

Personal Info
Gender

Male

Age

around 20 years old

Species

Human

Current Status

Alive (Active)

Family

Akisu (adoptive younger brother)

Professional Status
Affiliation

Thief Brothers

Occupation

Thief

Partner(s)
Voice Actor(s)
Japanese Voice Actor(s)
Debut(s)
Movie
Borodo (ボロード, Borōdo) is a character that appears in the second movie.[1]
Appearance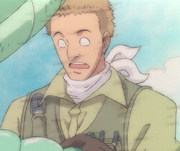 He wears an aviator's uniform and has a prosthetic left arm, having lost his real one to save his adopted brother
Akisu
.
[1]
Personality
He is very caring, as he took in Akisu as an infant.[1]
Abilities and Powers
He is an expert navigator, being able to steer a raft just by manipulating the makeshift parachute-sail.[1]
History
Seven years ago, he found Akisu as an infant floating in the sea and decided to take him in. Despite having no blood relation, they see each other as real siblings and call themselves the "Thief Brothers".[1]
The Straw Hat Pirates meet the Thief Brothers while looking for their ship which was stolen. Borodo informs them that the Trump Siblings have it and he and Akisu accompany them to Clockwork Island and the Trump Castle.[1]
When Luffy and Zoro get caught in one of the Trump's traps, Borodo reveals that he was the one who stole the Going Merry with the hope that the Straw Hat Pirates would defeat the Trump Pirates so he could steal the Diamond Clock. He had also hoped to provide a home for Akisu whom he somehow knew came from the island, possibly because of the music box he found with Akisu.[1]
After the Straw Hat Pirates defeat the Trump Siblings, Akisu is reunited with his parents. Much to his surprise, however, Akisu decides to continue being with him as the Thief Brothers. They bicker about how to divide the Trump Sibling's loot as the Straw Hat Pirates leave and the movie ends. [1]

Trivia
His name might be anagram from word "dorobo" which is Japanese for "thief".
References