Mihane Shirogane
Rōmaji

Shirogane Mihane

Personal Info
Gender

Female

Species
Current Status

Alive (Active)

Family
Professional Status
Affiliation
Occupation

9th Seat of the 6th Division

Rank

9th Seat

Team

6th Division

Base of Operations

6th Division HQ
Seireitei
Soul Society

Debut(s)
Manga
Anime

Bleach Episode #258 (omake)
Mihane Shirogane (銀 美羽, Shirogane Mihane) is the 9th seat of the 6th Division.
Appearance
Mihane has the appearance of a young woman, with short brown hair and glasses.
Character Outline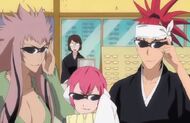 Apart from being a seated officer, Mihane is also the co-owner of Gin Tonbo (銀蜻蛉, The Silver Dragonfly), a very popular eyeglasses store in Soul Society.[1] Her father, Ginjirō Shirogane, was former lieutenant of the 6th squad and now runs the Silver Tonbo.[1] She also works at the store, having been shown serving Renji and Zabimaru.[2] She also worries about Renji and his friends, Ichigo and Ikkaku, driving away customers when they loiter outside the store.[3]
Powers and Abilities
Zanpakutō
Shikai: Not Yet Revealed
Bankai: Not Achieved
Trivia
In the omake chapters, Mihane's hair is lighter-brown in color. In her cameo in episode 258's Shinigami Illustrated Picture Book, her hair is darker brown.
References
↑ Bleach anime; Episode 258, Shinigami Illustrated Picture Book
↑ Bleach Bootleg; page 33
Titles
Template:Succession box
Gotei 13

1st Division
Captain-Commander Shunsui Kyōraku • Lieutenant Nanao Ise • Lieutenant Genshirō Okikiba
2nd Division
Captain Suì-Fēng • Lieutenant Marechiyo Ōmaeda
3rd Division
Lieutenant Izuru Kira • 3rd Seat Rikū Togakushi • 5th Seat Taketsuna Gori • 6th Seat Asuka Katakura
4th Division
Lieutenant Isane Kotetsu • 3rd Seat Yasochika Iemura • 7th Seat Hanatarō Yamada • 8th Seat Harunobu Ogidō
5th Division
Captain Shinji Hirako • Lieutenant Momo Hinamori
6th Division
Captain Byakuya Kuchiki • Lieutenant Renji Abarai • 9th Seat Mihane Shirogane
7th Division
Captain Sajin Komamura • Lieutenant Tetsuzaemon Iba
8th Division
3rd Seat Tatsufusa Enjōji
9th Division
Lieutenants Shūhei Hisagi & Mashiro Kuna • 20th Seat Toshimori Umesada
10th Division
Captain Tōshirō Hitsugaya • Lieutenant Rangiku Matsumoto • 7th Seat Kōkichirō Takezoe
11th Division
Captain Kenpachi Zaraki • Lieutenant Yachiru Kusajishi • 3rd Seat Ikkaku Madarame • 5th Seat Yumichika Ayasegawa • 10th Seat Makizō Aramaki
12th Division
Captain Mayuri Kurotsuchi • Lieutenant Nemu Kurotsuchi • 3rd Seat Akon
13th Division
Captain Jūshirō Ukitake • Lieutenant Rukia Kuchiki • 3rd Seats Kiyone Kotetsu & Sentarō Kotsubaki •

6th Seat Hidetomo Kajōmaru

Former Members
Left Service
Captain Yoruichi Shihōin • Gin Ichimaru • Shūsuke Amagai • Sōsuke Aizen • Ginrei Kuchiki • Love Aikawa • Kaname Tōsen • Isshin Shiba • Kirio Hikifune • Tenjirō Kirinji • Ōetsu Nimaiya • Senjumaru Shutara • Ichibei Hyōsube

Lieutenant Marenoshin Ōmaeda • Chikane Iba • Seinosuke Yamada • Ginjirō Shirogane • Jin'emon Kotsubaki • Jirōbō Ikkanzaka • Lisa Yadōmaru • Mashiro Kuna • Hiyori Sarugaki

Dishonorably Discharged
Captain Kisuke Urahara • 3rd Seat Kōga Kuchiki • 4th Seat Kagerōza Inaba
Killed In Action
Captain-Commander Genryūsai Shigekuni Yamamoto

Captain Retsu Unohana • Kenpachi Kiganjō • Rōjūrō "Rose" Ōtoribashi • Kensei Muguruma

Lieutenant Chōjirō Sasakibe • Sōjun Kuchiki • Kaien Shiba

Seated Officers Heizō Kasaki • Shinobu Eishima • Izaemon Tōdō • Miyako Shiba
| | |
| --- | --- |
| | This article is a stub. You can help Anime And Manga Universe Wiki by expanding it. |