Nagare (ナガレ, Nagare) and his partner Hokushin are members of the Watari ninja under the servitude of Hōki.
Part I
Land of Birds Arc
He eventually fought against Kakashi Hatake. Kakashi, knowing Nagare's weakness, faces him. By using his Sharingan, Kakashi was able to see Nagare's chakra emanating from a rock, the location of his real body, and uses Lightning Cutter to destroy it. After a fierce battle, he is defeated, but not killed by Kakashi.
Abilities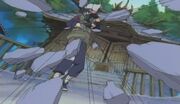 Nagare created the Assimilate All Creation Technique, in which he is able to absorb the properties of any nearby object and manipulate it through his will alone. As seen with fight against Kakashi, Nagare took on the properties of stone. Not only was he able to manipulate the stone around him, but was able to turn into stone himself while producing large quantities from it. Also, by taking on the properties of stone, he was able to use the Assimilation: Rock Blizzard to use stones as projectiles, and the Assimilation: Rock Tank to expand using stone and crush the opponent while rolling with great force. He could also control rock powder similarly to Gaara's sand, engulfing the opponent with rock powder by using Assimilation: Sand Binding Coffin and crushing them with Assimilation: Sand Waterfall Funeral.
Trivia
"Nagare" (流) means "flow".
Ad blocker interference detected!
Wikia is a free-to-use site that makes money from advertising. We have a modified experience for viewers using ad blockers

Wikia is not accessible if you've made further modifications. Remove the custom ad blocker rule(s) and the page will load as expected.